Telegraphic Codes (Apr 2019)
Diamond Bay Radio : 2019-04-24
A conversation between Lex Berman and John McVey.
Lex Berman is the publisher of Diamond Bay Press.
John McVey teaches graphic design at Montserrat College of Art, and is an expert on the history of telegraphic codes.
Recorded in Cambridge, MA on 24th April, 2019.
In this podcast, John McVey explains the historical technology and language of telegraphic codes.
John describes the code books themselves, how they were developed and printed, and how, as poetic artifacts, they provide a rich resource of intentional or unintentional literary value. Other subjects discussed include wireless telegraphy from the early 20th Century passenger liners (such as the Titanic), Dutch colonialism in Indonesia, and the telegraphic code system of Japan.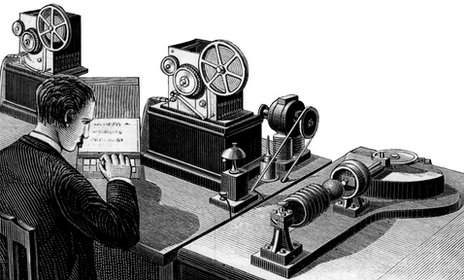 photo src: Tiarne Blackwell url
Opening music clip: © Sertab Eraner, Stanboul src
Further reading:
Ludovic Bauer, Telegram-schlussel (Leipzig: 1913)